Island Hopping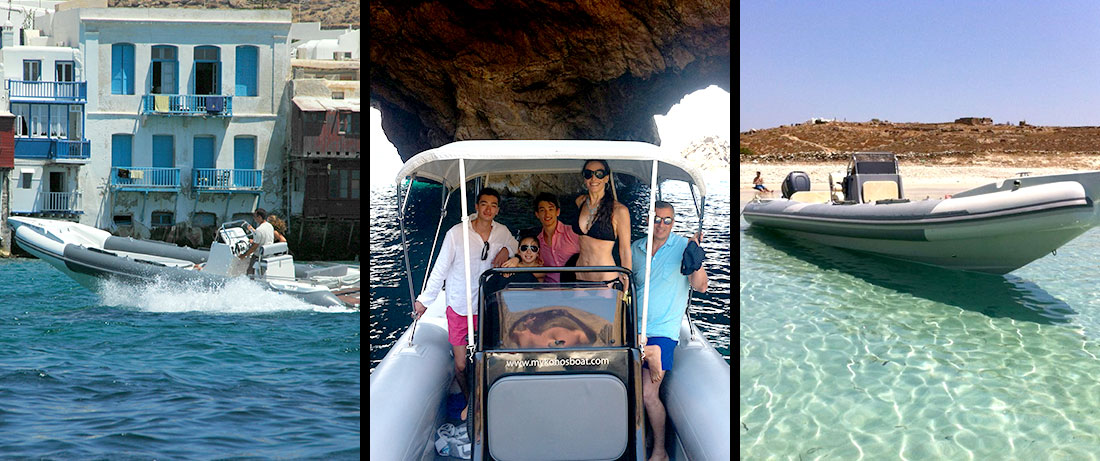 The best island hopping tour is cruising along the beautiful inter coastal waterways. The experience of more than one place in a day, more than one bay, more than one island is a must and will add an unforgettable dimension to your holiday experience.
Suggested itineraries: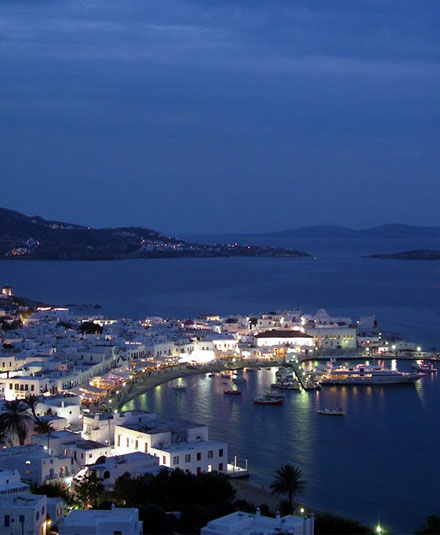 I. Mykonos Island. The spirit of holidays.
The most famous cosmopolitan island and one of the international jet set's top destinations. Apart from its glamorous night life, Mykonos is also blessed with natural beauty and a great selection of sun-kissed beaches.
Hopping the island you can discover plenty of coasts and sea sides and experience the unbelievable blue waters of Mykonos that can conditionally change tones from deep dark blue to turquoise.
This itinerary starts from Psarou bay and you will be able to see all South coast beaches such as Paradise, Super Paradise, Agrari, Elia, Kalo Livadi, Agia Anna, Kalafatis, Lia and Frangia beach. There is a beach for every taste, from popular family beaches to cosmopolitan and nudist.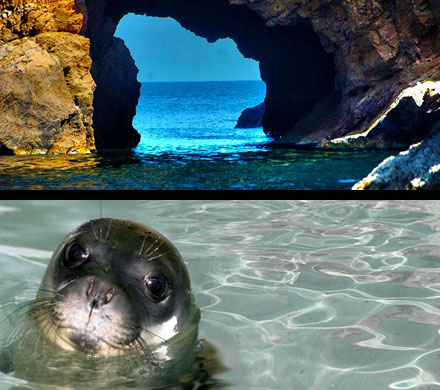 If the weather condition permits you can also discover many more hidden places towards Dragonissi isle. Dropping anchor here, we can enjoy a dive into fabulous caves and a swim in its amazingly unique, tiny beach.
Dragonissi is a protected nature reserve area and a shelter for MONACHUS – MONACHUS seal. Snorkeling equipment are provided for those who would like to explore the nearest reefs and the extraordinary azure seabed. A full day in blue sea and a camera full of pictures with cheerful smiles, is what you bring back when you return to Psarou bay.
Your enjoyment, peace of mind and happy face, is the best reward for Myboat's Rental crew.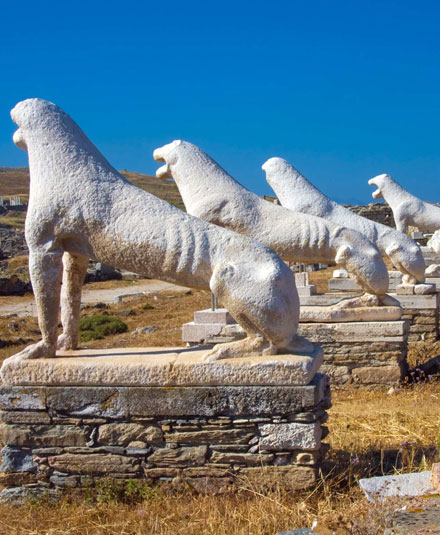 II. Ancient Greek adventure
sacred Delos.
A must of any boat charter, a tiny island also known as the birth place of Apollo (Sun God) and his sister Artemis (Moon Goddess).
Delos is the island where the light was born, the ultimate good for ancient Greeks. A place with overflowing energy and a grand history of over 5000 years. For those who choose this itinerary it's a big opportunity to combine culture and pleasure. Starting from Psarou bay we will navigate through the complex of Prassonissia towards the island of ancient Delos.
Approaching the small natural picturesque port you can get a view of ancient monuments and an aura of uniqueness. It is the only island on earth hosting so many monument antiquities from the Archaic, Classical and Hellenistic eras.
For those who would like to walk and explore this mythological, historical and archeological site, protected heritage of the UNESCO world list, we can make a stop at the small harbor. The terrace of Lions, House of Dionysus, House of Cleopatra, Bust of Hermes, the theatre, House of Dolphins and the Temple of Hera are only some of the spots that you definitely must visit.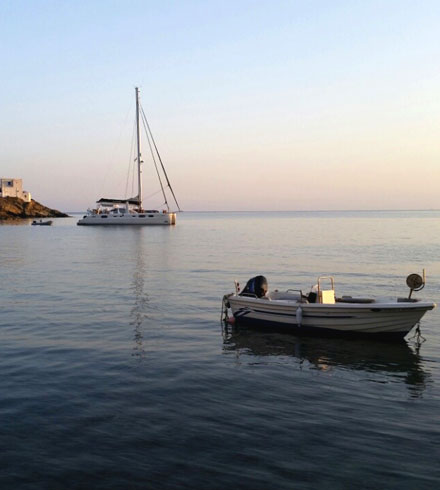 Hidden jewels of Rhenia Island.
After travelling into past, it's time to cruise to a nearby paradise, the island of Rhenia. Many secluded beaches and turquoise waters will offer you the opportunity to enjoy the sun and the sea up to the fullest. Calm bays with crystal waters and white sand here allows safe swimming (with no currents at all) for you, your family and friends.
The geographical isolation of Rhenia creates an atmosphere of undisturbed solitude that encourages you to forget about the outside world, while immersing in azure crystal waters and the unique feeling of the island.
After a full day in nature, upon returning to Psarou Beach you can arrange to have dinner (at an additional cost) in one of the best restaurants of the Mediterranean, "Nammos". Greek hospitality is unchallenged. Myboat's Rental crew is proud to be a part of it.
Our full line of tours
Our vessels are fully equipped with the appropriate horse power, auxiliary engine, fuel tank with reserve switch, detachable fuel tank for the auxiliary engine, fire extinguisher, all the necessary navigation aids such as compass, GPS- plotter, anchor, stern platform, ladder, radio- CD player, ice-cooler. They are also equipped with the appropriate life jackets and flairs. All of our boats are delivered fully checked, bunkered, and supplied with shower water, beverages and ice.